The Clinton County Health Department is committed to protecting and enhancing the quality of life of the people we serve. This includes linking individuals with resources and information to empower everyone to be an active participant in their own health outcomes. We have a wealth of information in regards to chronic medical conditions and are happy to continue to work as a team with patients, providers, and coalitions around the county to address today's most pressing health issues.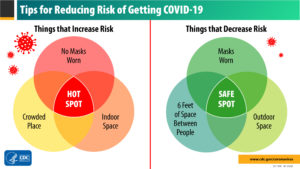 Hot Topics: COVID-19
For national/travel information regarding COVID-19
Please follow this link:
For regional information (IDPH/Illinois) regarding COVID-19
Please follow this link:
You can call the local health department for questions, or contact IDPH:
Dial 1-800-889-3931 or email DPH.SICK@ILLINOIS.GOV to have all your Coronavirus (COVID-19) questions answered.
Resources:
Videos and Images taken from CDC.gov (retrieved September 9, 2020).